At Bluecoat Wollaton Academy, we believe that literacy is the key to improving learning and raising standards. Literacy is a key component of our Strategic Vision and is at the centre of our student leadership groups.
Literacy underpins the whole school curriculum by developing students' abilities to speak, listen, read and write for a wide range of purposes, using language to learn and communicate, to think, explore and organise. 
Lower levels of literacy impact negatively on what students can do and how they see themselves. Crucially, we believe that literate students will ultimately emerge as confident and articulate communicators, fully prepared to enter the adult world, whether to continue their academic studies or to enter the world of work.
We believe that students should be actively engaged in developing their literacy skills at every stage of their development.  To that end we have designed and developed a number of initiatives to foster independence and a love of reading and literature.
"Leaders provide Year 7 pupils who arrive in school with low literacy and numeracy skills with effective support. As a result, these pupils make rapid progress, particularly in English."
"The promotion of pupils' literacy skills is a key characteristic of many lessons. For example, teachers make frequent use of subject-specific vocabulary. Teachers place a strong emphasis on developing pupils' oral skills. Inspectors saw many positive examples of pupils of all ages reading aloud with their peers."

The Online Vocabulary Curriculum For Schools | Bedrock Learning
We have invested in a brilliant online learning resource that aims to teach students the academic vocabulary they need to succeed in school and beyond. The extensive and engaging vocabulary curriculum offered by Bedrock Learning allows us to close the word gap and ensure that all our students are given the chance to develop and use a wide and ambitious range of ideas and vocabulary. We encourage our students to look for cross-curricular application of this vocabulary, and our staff have received high quality CPD training from Bedrock to help support vocabulary learning in all lessons. The digital platform of Bedrock allows this to be an invaluable resource for both home and school learning, and gives us a wealth of data to track and monitor usage across year groups too.
Tutor Time Reading
At Bluecoat Wollaton, we know how important reading is for our students, and we want to encourage all of our students to challenge themselves with books that broaden their horizons and imaginations. Our tutor time reading programme builds a community of reading through a shared reading experience of powerful stories that explore many elements of human experience.
The whole school reads routinely once a week during registration time. This programme helps students build a lifelong reading habit and refines and develops both their written and verbal oracy skills. Teachers read with their form groups during this time, with students taking turns to read the novel out loud. It's great to see the whole school community engrossed in their book!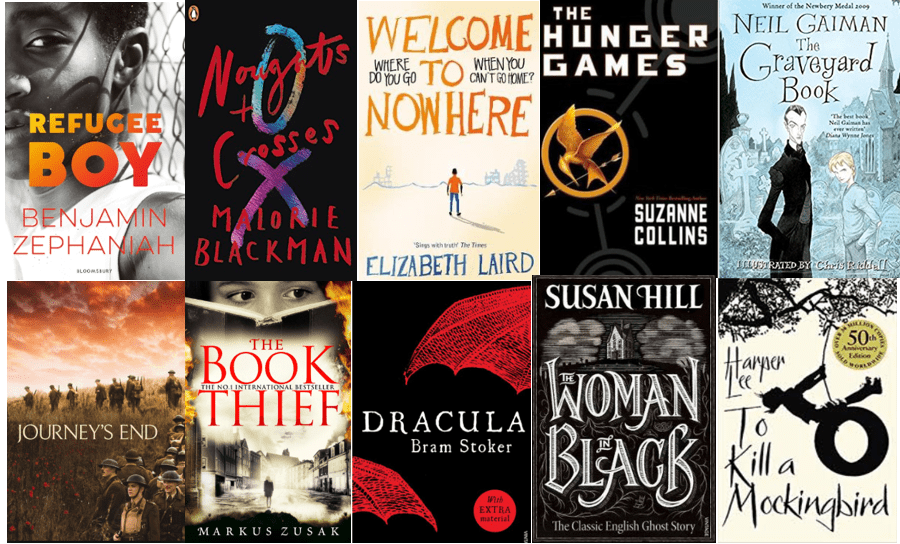 Library Lessons
Our year 7 and 8 cohort have a Library lesson each week as one of their English lessons. During this hour, students are guided towards books that interest them; leading on to activities which further develop their individual reading age. These activities could consist of retention testing, spelling tests and vocabulary tests that are completed at the beginning or end of either these lessons or an English lesson.
All teachers are aware of students' current reading levels and can use this information to guide students towards progress. Teachers are able to use this information and data to either lead whole class readers or smaller more personalised groups where students read aloud to the teacher.
Additional Literacy Lessons (Phonics)
Reading and writing are key to a child's development and are skills needed to access the adult world fully. Whether students attend university or not, as they get older, they will be expected to complete more sophisticated reading and writing tasks. To support some Year 7 and 8 pupils in accessing the mainstream curriculum and further embedding their literacy skills, an additional literacy curriculum has been developed as an extra support for targeted pupils. Click here to learn more about our Phonics programme.
Knowledge Organisers
At Bluecoat Wollaton we feel it is important to set about making excellent progress in your child's learning by reinforcing crucial information beyond the classroom. Research indicates that the most effective homework for younger students is carefully organised and monitored. To help structure this important aspect of their learning they are issued with a Knowledge Organiser. The purpose of this is to set well-structured and challenging homework that strengthens their understanding of key information, concepts and subject specific terminology directly related to the syllabuses that inform their GCSE examinations.
Using these Knowledge Organisers, pupils prepare for lessons by learning their specialist vocabulary, spellings and definitions of new words in advance. Not only making lessons more accessible, but improving subject-specific literacy. In all subjects, pupils are tested sometimes daily, often weekly and always termly on their retention.
We have been privileged to work in partnership with the National Literacy Trust to build and strengthen our literacy strategy across the Archway Learning Trust. This has allowed many members of staff to receive high quality, research-led and engaging CPD to bring literacy to the forefront of classroom teaching.
Library
Our Library at Bluecoat Wollaton is an amazing resource for students, packed full with an array of brilliant fiction and non-fiction books. Competitions and extra-curricular clubs such as a KS3 Book Club and a Carnegie Award Shadowing scheme help our students to feel confident and comfortable in this brilliant space. For more information, please click here.
Useful Links:
Here are some links to some fabulous book related websites as well as the local library service: