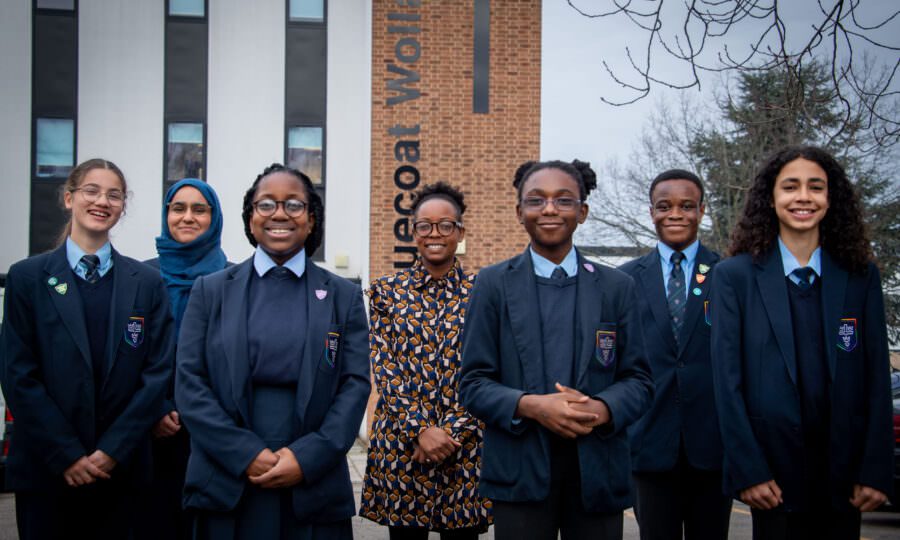 Students from Bluecoat Wollaton Academy who were nominated by staff for their outstanding contribution to school life have been recognised at the World Class Schools Quality Mark (WCSQM) awards ceremony held at the Sheldonian Theatre in Oxford.
The academy itself was also shortlisted for the prestigious 'School of the Year' award and saw its students nominated in a writing competition as well as five further student categories including community, charity, work place, commitment to achievement and leaders.
On the day, Bluecoat Wollaton Academy student ambassador Mark Baffoh-Botchway was announced as the winner of the prestigious 'Student of the Year' accolade for contributions to school life. Mark said, "It was a reminder of where hard work can get you. When I first started secondary school, I wasn't really into becoming a student ambassador, -but when I got a letter of congratulations following an event, it pushed me into wanting to achieve more, and that little push that the school gave me enabled me to achieve this award. I'm grateful for all the love and support I was given to get this award."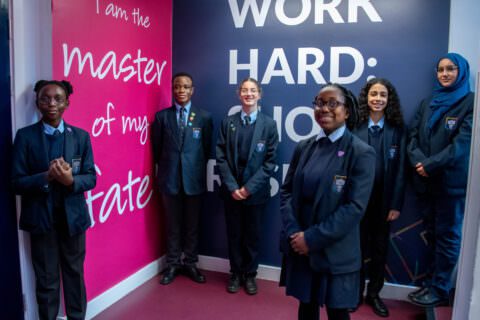 The glittering awards ceremony included a keynote address from Robert Douglas-Fairhurst, Fellow and Tutor in English at Magdalen College, author of 'Becoming Dickens' and newly published 'The Turning Point', and also an audience with Dan Freedman, author of the best-selling Jamie Johnson series.
Student Aria Charles (Year 8) was nominated for the Community category after organising events including stone painting sessions to raise money for the Poppy Appeal. Aria enjoyed the experience saying, "The most memorable part of the day was arranging for Professor Robert Douglas Fairhurst to sign copies of his book for myself and one as a gift for school."
Fellow student Caleb Russell (Year 9), nominated in the Charity category for holding bake sales for Children in Need and arranging acts of worship said the visit to Oxford was a memorable occasion. "I was surprised by the size of Oxford University and how old some of the buildings are. I also was surprised by the wonderful artwork in the gallery." Caleb said helping to organise visitors at the event was a confidence boost. "I enjoyed helping to organise the award ceremony and being able to talk to many people. Doing this I became more confident, and it helped me because I had to stand in front of a crowd."
Audrey Chikasha is Student Leadership Coordinator at Bluecoat Wollaton Academy and said that students were a credit to their school community, especially in their deportment helping organisers of the event. "We are very proud of all of our students and the whole academy was pleased to be represented by their peers at such a prestigious event. In all, six of our students received recognition for their contributions to school life and learning."
Ridha Ajaib (Year 8) was nominated in the Commitment to Achieve category after overcoming a fear of public speaking to address an audience of parents at an academy event. Not only did Ridha speak eloquently, also helping to produce a video, but was praised by Bluecoat Wollaton Principal Stuart Anderson who received letters from school visitors praising Ridha as 'a wonderful ambassador' of the academy.
Student Lowri Moore (Year 8) was nominated for the Leaders category after writing a children's book exploring what it is like to wear glasses from a young age. Lowri also wrote to Disney to ask for greater representation of lead characters who wear glasses. Lowri said, "Honestly I really enjoyed the whole experience but if I had to pick a favourite it would definitely be the tour of the castle and getting to learn more about history and origins of Oxford. I also really enjoyed getting to help with the ceremony and seeing all the schools of world class in one building."
Year 8 student Riley Chimbetete was shortlisted in a writing competition organised by author Dan Freedman. Riley's impressive essay asked, 'How much can motivation from parents, or the important adults in your life, help or hinder your success?' Riley's Mother also attended the ceremony, and both were able to meet and have their photograph taken with the author.
Audrey Chikasha said the students should be proud of their achievements. "The students had a wonderful experience, not only at the ceremony but also enjoying the sites of Oxford during the day. We know they will be an inspiration to fellow students, staff and the wider school community and hope they will have a positive, lasting memory of their day."
In a letter from the World Class School Quality Mark awards, organisers said, "Bluecoat Wollaton Academy has been shortlisted for World Class School Quality Mark School of the year amongst eight other elite schools. As with all World Class Schools, the school has a reputation for academic excellence having been judged to be 'outstanding' in all categories in its last inspection (May 2018). The inspection report, led by Her Majesty's Inspector Rachel Tordoff, noted at the time that, ''There is a tangible culture of high expectations for pupils and staff. Leaders ensure that all pupils, regardless of their backgrounds, excel.''
Visit the Bluecoat Wollaton Academy web page to watch the brilliant WCSQM School of the Year nomination video created by students.